Used VW Transporter Spares For Sale
We strip accident damaged VW Transporter vehicles for spares. We are your one stop VW scrap yard selling used Transporter parts!
FIND YOUR PARTS
VW Transporter Parts For Sale
Our organization present a full selection of used VW Transporter spares and replacement parts driving on the SA roads. Regardless of whether you require spare engine parts, gearboxes, turbos or body parts, our friendly sales team will be thankful to help you!
Our Stock
Our Volkswagen scrap yard team are continually stripping accident damaged Transporter vehicles for spares. All parts are shelved and ready for purchase. We also source our VW Transporter replacement parts from quality suppliers ensuring your vehicle is only fitted with the correct aftermarket replacement parts. Buy Transporter ignition switches, rims,engines, wiper motors, indicators, window regulators, tie rod ends, electrical parts, gaskets, suspension parts, headlights, break calipers, bumpers, crankshafts, windscreens, doors, camshafts and more!
Latest VW Transporter Part Requests
Date

Requirements

2022-06-24 12:18:48 +00:00

Looking for right hand side grab handles for A and B pillars for VW Transporter T5 - T6 (from 2003 onwards)

2022-06-22 16:00:41 +00:00

T4 2.5 tdi transporter Cv joint inner

2022-06-22 16:00:40 +00:00

T4 2.5 tdi transporter Cv joint inner

2022-06-21 12:49:22 +00:00

Good afternoon
I am looking for two parts, namely, Fuel rail 070133317C the fuel injector and VW Transporter T5 2.5 TDI Timing cover 070109211

2022-06-15 09:18:45 +00:00

Looking for a good VW TRANSPORTER 1.9TDI GOOD USED PRESSURE AND CLUTCH PLATE

2022-06-09 14:14:31 +00:00

Looking for a complete T5 Transporter 1.9 engine 2013 engine

2022-05-25 11:57:52 +00:00

Hi I am looking for the back solid triple seat and
and floor fittings for my vehicle. 1.9 tdi transporter lwb

2022-05-03 09:47:44 +00:00

I'm looking for a drivers side sliding window rail for a 2006 VW Transporter 4motion.

2022-04-28 14:10:05 +00:00

Hi all,

I'm looking for a 2017 VW T6 Transporter driver's side sliding door window. anyone have or know where I can source one?

2022-04-27 21:49:50 +00:00

I can't afford a new clutch. Do you perhaps have a duel mass flywheel and clutch for transporter t6 2.0 tdi CAAB
About The Transporter
Resources:
We Deliver Across South Africa!
We deliver VW spare parts across South Africa and Africa including Swaziland, Botswana, Lesotho, Angola, Zimbabwe, Swaziland and Namibia. Only the most reliable couriers are used.
Sell Your VW For Parts!
Have an old VW that needs to be scrapped? Scrap your car with us! We buy non-runners or accident damaged VW's and strip them for parts. All vehicle types considered no matter how bad the damage.
You Are In Safe Hands!
We have been in the industry for many years. We only supply quality used parts at affordable prices.
VW's Stripping For Spares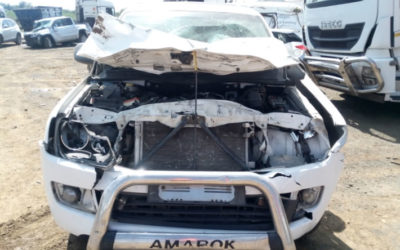 Now stripping a 2011 VW Amarok Contact us for any part enquiries. Complete Engine Lock Set: Key, CAS, Computer Box Radiator Set: Heat Exchanger,Water Pipes, Intercooler Gearbox Radiator AC Condenser, Alternator, Aircon Pump, Starter Motor, Water Pump, Radiator Fan,...
Past Customer Queries
| Date | Customer Name | Model | Engine | VIN Number | Requirements |
| --- | --- | --- | --- | --- | --- |