Used VW Beetle Spares For Sale
We strip accident damaged VW Beetle vehicles for spares. We are your one stop VW scrap yard selling used Beetle parts!
FIND YOUR PARTS
VW Beetle Parts For Sale
Our organization offer a entire spectrum of second hand VW Beetle spare parts and replacement parts traveling on the SA roads. Whether or not you require engine parts, gearboxes, turbos or body parts, our warm and friendly sales team will be delighted to help you!
Our Stock
Our Volkswagen scrap yard team are continually stripping accident damaged Beetle vehicles for spares. All parts are shelved and ready for purchase. We also source our VW Beetle replacement parts from quality suppliers ensuring your vehicle is only fitted with the correct aftermarket replacement parts. Buy Beetle engines, electrical parts, window regulators, indicators, break calipers, headlights, crankshafts, tie rod ends, doors, bumpers, rims, windscreens, suspension parts, gaskets, camshafts, wiper motors, ignition switches and more!
Latest VW Beetle Part Requests
Date

Requirements

2022-06-14 19:58:56 +00:00

Good day, I have a yellow VW Beetle that needs a few parts that have broken through the years. Do you have any beetles available for spares?

2022-05-13 17:19:49 +00:00

Hi, i am looking for a Solex 34pict3 Carburetor on my 1976 VW Beetle 1600 twinport please

2022-05-12 12:47:09 +00:00

vw beetle roofrack - vintage

2022-04-22 11:57:26 +00:00

Hi. I am looking for the complete convertible soft top for a Millennium Beetle please?
Thanks

2022-04-21 16:38:44 +00:00

Do you have a 2nd hand beetle engine

2022-04-21 10:28:11 +00:00

4 speed automatic gearbox for a volkswagen beetle 2007 model

2022-04-01 07:50:05 +00:00

HI ,Looking for a 2001 vw beetle front grill and fog lights ,

2022-03-31 18:07:00 +00:00

Hi, I have a 1975 's' Beetle and in need of an ash tray and cubby lock. Used or new.

2022-03-27 18:01:43 +00:00

In the market for 2014 Vw beetle mirror or cover and light indicator left side.

2022-03-27 18:01:41 +00:00

In the market for 2014 Vw beetle mirror or cover and light indicator left side.
About The Beetle
The 1938 Volkswagen Beetle became one of the most famous cars in the world, produced until 2003. He had a large number of models, 1300, 2000, 1500, 1302, etc. This is the well-known "Beetle" or "Herbie". Not so long ago, a presentation of the new Volkswagen Beetle 2020 model year was held in Germany. The latest news says that the start of sales will begin from the beginning of next year.
Body
The novelty has undergone a noticeable restyling, the new body attracts with a modified front bumper and other parts. The changes also affected the interior trim and trim levels.
Car exterior
The appearance of the new item has changed compared to the previous model. The design of the hatchback cabriolet was redesigned. The taillights have become darkened, and their shape has also changed. The exterior of the novelty is neat, smooth lines prevail, the shape vaguely resembles its old brother Herbie. Convex side grips above the wheels blend harmoniously into the exterior of the machine. Thanks to its compact parts, the Volkswagen new model Beetle looks compact and not bulky. The bonnet is lengthened and the roof shape adds a sporty touch and a more aggressive look to the design. The model is available in hatchback and convertible bodies.
Also available in two body colors: White Silver Metallic, Bottle Green Metallic. The trims are available with 17 and 18 diameter discs. The body types can also vary, for example, when buying a Denim package, the buyer gets a blue color and a soft roof made of denim. The body cover lies neatly and harmoniously fits into the overall design concept.
Dimensions
The model has the following dimensions: Width: 1808 mm .; Length: 4278 mm .; Height: 1486 mm .; Clearance (ground clearance): 136 mm .; Discs 17, 18 diameter; Trunk volume: 310 liters. New items salon As in any hatchback, the Volkswagen Beetle interior is compact but roomy, the new body is 3-door. Due to the flat roof and slightly increased dimensions, the interior is quite spacious. It has good equipment, all the necessary accessories for comfortable control.
Accessories
The functionality of the cabin is as follows: climate control, cruise control, comfortable, movable seats, the dashboard has been improved, high-quality audio system, multimedia, parking sensors, interior lighting. Also in additional trim levels, there are additional colors of the upholstery, equipment options, towbar. Manufacturers have provided all the necessary details that will facilitate driving in any weather. The seat upholstery of the Volkswagen Beetle is made with quality fabric, which is now more resistant to stains. Also, if necessary, the rear seats have plenty of room for passengers.
In addition to the good equipment of the cabin, a high level of safety has also been maintained, which will protect not only the driver but also passengers. Despite its compactness, the new model can be quite roomy, but most likely, it will not be enough for a family car.
The technical characteristics of the novelty are fully consistent with the price. The hatchback has excellent performance, but few buyers choose it because of its compact size. On test drives, the legendary Volkswagen Beetle 2021 showed good results.
Specifications
Maximum speed: 180 km / h;
Diesel / Gasoline: Turbocharged Gasoline;
Engine displacement: 1197 cm3;
Acceleration time at 100 km / h: 10.9 seconds;
Engine power: 105 horsepower;
Torque: 175 Nm at 1550-4100 rpm;
Fuel consumption per 100 km (city / highway): 7.6 / 5.0 liters;
Transmission: mechanics, six-speed;
Tank volume: 55 liters;
Front-wheel drive.
Resources:
We Deliver Across South Africa!
We deliver VW spare parts across South Africa and Africa including Swaziland, Botswana, Lesotho, Angola, Zimbabwe, Swaziland and Namibia. Only the most reliable couriers are used.
Sell Your VW For Parts!
Have an old VW that needs to be scrapped? Scrap your car with us! We buy non-runners or accident damaged VW's and strip them for parts. All vehicle types considered no matter how bad the damage.
You Are In Safe Hands!
We have been in the industry for many years. We only supply quality used parts at affordable prices.
VW's Stripping For Spares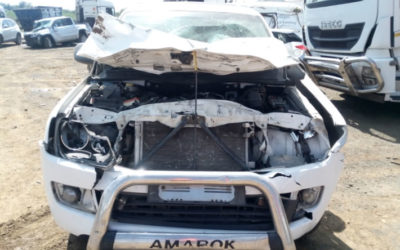 Now stripping a 2011 VW Amarok Contact us for any part enquiries. Complete Engine Lock Set: Key, CAS, Computer Box Radiator Set: Heat Exchanger,Water Pipes, Intercooler Gearbox Radiator AC Condenser, Alternator, Aircon Pump, Starter Motor, Water Pump, Radiator Fan,...
Past Customer Queries
| Date | Customer Name | Model | Engine | VIN Number | Requirements |
| --- | --- | --- | --- | --- | --- |