Used VW Touran Spares For Sale
We strip accident damaged VW Touran vehicles for spares. We are your one stop VW scrap yard selling used Touran parts!
FIND YOUR PARTS
VW Touran Parts For Sale
Our Volkswagen spare parts scrap yard team are continually stripping accident damaged Touran vehicles for spares. All parts are shelved and ready for purchase. We also source our VW Touran replacement parts from quality suppliers ensuring your vehicle is only fitted with the correct aftermarket replacement parts. Buy Touran rims, headlights, wiper motors, crankshafts, brake calipers, electrical parts, bumpers, tie rod ends, window regulators, suspension parts, camshafts, doors, engines, gaskets, ignition switches, indicators, windscreens and more!
About The VW Touran
For the first time, the Volkswagen Touran car was presented in 2003. The car was built on the basis of the fifth-generation Volkswagen Golf. In 2007, the model underwent a serious restyling, as a result of which the front of the car began to resemble the Passat. 
The following elements were replaced: the radiator grill, headlights, hood and bumper. The rear lights have also been upgraded. Despite the compactness of the car, it can accommodate up to 7 people. 
In terms of technological innovation, the 2007 Touran is equipped with the ParkAssist parking system. The car finds the best parking spot by itself and turns the steering wheel to the required angles. The driver can only press the gas and brake. 
The Volkswagen Touran is equipped with petrol engines with a volume of 1.4 to 2 liters and diesel engines with a volume of 1.9 to 2 liters. Engine power ranges from 102 to 170 horsepower for gasoline options and 105 to 170 horsepower for diesel. By default, the car is equipped with a 6-speed manual transmission. At the request of the buyer, the car can be equipped with a 6-speed automatic transmission.
4 years after the last restyling, which took place in 2006, the second generation Volkswagen Touran 2010 was presented. The compact MPV is based on the universal platform PQ35, on the basis of which the Golf VI is built. The front of the car has acquired the family traits characteristic of all latest generation VW models, and in general, the Volkswagen Touran 2010 looks like a smaller copy of the Sharan minivan.
The updated exterior is complemented by a fresh engine lineup, the youngest of which is the 1.2-liter 105-horsepower TSI. In addition, the Volkswagen Touran 2010 with a 2-liter turbodiesel with 110 hp and a 1.4-liter TSI with 140 hp is available to buyers. Depending on the configuration, and there are only two of them, the compact van is equipped with a 6-speed manual transmission, as well as branded DSG robots with 6 and 7 speeds. 
With its small overall dimensions, the Volkswagen Touran 2010 has three rows of seats, and the volume of its luggage compartment is 695 liters. With the rear seats folded down, the luggage compartment increases to almost 2 m², which is a practical record figure for a car of this class. Salon Volkswagen Touran 2010 has several dozen options for transformation, which facilitates the transportation of bulky goods and passengers.
Resources:
Latest VW Touran Part Requests
Date

Customer Name

Requirements

2021-06-18 16:52:12 +00:00

Ll

VW Touran 1.2 TSI
Looking for an engine
CBZ 742591

2021-06-06 07:18:41 +00:00

Samuel ogualu

I am looking for gateway module for vw touran

2021-05-25 14:49:19 +00:00

Adam

I dnt hv vin nmbr with me nw looking for azv engine vw touran 2.0 tdi 2004model

2021-05-23 06:27:08 +00:00

Godfrey

Hi I need vw touran 2.0 tdifly wheel

2021-05-09 18:03:54 +00:00

Juan James

Hi there
I am looking for a steering wheel for a VW Touran with the radio control buttons on the steering
We Deliver Across South Africa!
We deliver VW spare parts across South Africa and Africa including Swaziland, Botswana, Lesotho, Angola, Zimbabwe, Swaziland and Namibia. Only the most reliable couriers are used.
Sell Your VW For Parts!
Have an old VW that needs to be scrapped? Scrap your car with us! We buy non-runners or accident damaged VW's and strip them for parts. All vehicle types considered no matter how bad the damage.
You Are In Safe Hands!
We have been in the industry for many years. We only supply quality used parts at affordable prices.
VW's Stripping For Spares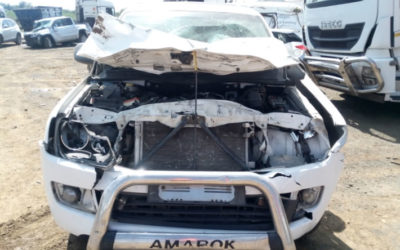 Now stripping a 2011 VW Amarok Contact us for any part enquiries. Complete Engine Lock Set: Key, CAS, Computer Box Radiator Set: Heat Exchanger,Water Pipes, Intercooler Gearbox Radiator AC Condenser, Alternator, Aircon Pump, Starter Motor, Water Pump, Radiator Fan,...
Past Customer Queries
| Date | Customer Name | Model | Engine | VIN Number | Requirements |
| --- | --- | --- | --- | --- | --- |