Used VW Arteon Spares For Sale
We strip accident damaged VW Arteon vehicles for spares. We are your one stop VW scrap yard selling used Arteon parts!
FIND YOUR PARTS
VW Arteon Parts For Sale
Our organization provide a full array of second-hand Volkswagen Arteon spare parts and replacement parts driving on the South African roads. No matter whether you require spare engine parts, gearboxes, turbos or body parts, our helpful sales team will be glad to help you!
Our Stock
Our Volkswagen scrap yard team are continually stripping accident damaged Arteon vehicles for spares. All parts are shelved and ready for purchase. We also source our VW Arteon replacement parts from quality suppliers ensuring your vehicle is only fitted with the correct aftermarket replacement parts. Buy Arteon ignition switches, suspension parts, headlights, tie rod ends,engines, rims, windscreens, bumpers, crankshafts, gaskets, wiper motors, doors, electrical parts, break calipers, indicators, camshafts, window regulators and more!
Latest VW Arteon Part Requests
| Date | Requirements |
| --- | --- |
| 2021-07-02 14:37:01 +00:00 | Iam looking for a ARTEON R-Line petrol cap flap |
| 2021-07-02 14:36:59 +00:00 | Iam looking for a ARTEON R-Line petrol cap flap |
| 2021-05-26 22:13:21 +00:00 | Looking for Vw arteon right mirror |
About The Arteon
The 5-door Arteon liftback, preceded by the up-and-coming 2015 Sport Coupe GTE concept, is intended to replace Volkswagen's outdated Passat CC image Technically, the new Volkswagen Arteon is very similar to the Passat new generation. Both models have in common a common modular MQB platform, power line, and design solutions in the interior.
Body Dimensions
In terms of dimensions, Arteon turned out to be larger than the Passat: the length of the German hatchback extends to 4862 mm (versus 4767 mm), the width of the new item is 1871 mm (versus 1832 mm), the distance between the axles is 2837 mm (versus 2791 mm) and only in height. "less, albeit purely symbolic by 6 mm – the effect is a more sporty coupe-like body profile.
The luggage compartment in the Volkswagen Arteon is naturally larger than that of the ideological predecessor CC – 563 liters (with the seats folded 1557 liters). In terms of design, this is a completely different car, moving away from unification with other VW models. Externally, Arteon is very close to its concept – the same coupe-like roofline.
Interior
The interior of the Volkswagen Arteon almost completely copies the Passat's, with the exception of some minor ergonomic and design solutions. It should also be noted that "Arteon" has a richer set of options than its sister "Passat" – this is explained by the fact that in the range of the German automaker the hatchback is positioned as a flagship model.
Accessories
The list of available Volkswagen Arteon equipment includes a fully diode lighting technology, a digital dashboard with a projection on the windshield, a multimedia system with gesture control and a 9.2-inch screen (in the "base" the display is smaller – 6.5 inches), 3-zone climate control with anti-allergy filter, comfortable sports seats in Nappa leather.
Engine
For Volkswagen Arteon, the company provided 2-liter VW turbocharged engines: diesel for 150, 190 or 240 forces and gasoline with boost at 190 and 280 forces. Gearbox – 6-speed manual or 7-band DSG robot.
Resources:
We Deliver Across South Africa!
We deliver VW spare parts across South Africa and Africa including Swaziland, Botswana, Lesotho, Angola, Zimbabwe, Swaziland and Namibia. Only the most reliable couriers are used.
Sell Your VW For Parts!
Have an old VW that needs to be scrapped? Scrap your car with us! We buy non-runners or accident damaged VW's and strip them for parts. All vehicle types considered no matter how bad the damage.
You Are In Safe Hands!
We have been in the industry for many years. We only supply quality used parts at affordable prices.
VW's Stripping For Spares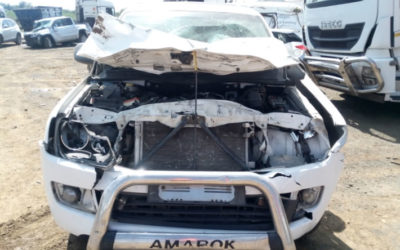 Now stripping a 2011 VW Amarok Contact us for any part enquiries. Complete Engine Lock Set: Key, CAS, Computer Box Radiator Set: Heat Exchanger,Water Pipes, Intercooler Gearbox Radiator AC Condenser, Alternator, Aircon Pump, Starter Motor, Water Pump, Radiator Fan,...
Past Customer Queries
| Date | Customer Name | Model | Engine | VIN Number | Requirements |
| --- | --- | --- | --- | --- | --- |