Used VW T-ROC Spares For Sale
We strip accident damaged VW T-ROC vehicles for spares. We are your one stop VW scrap yard selling used T-ROC parts!
FIND YOUR PARTS
VW T-ROC Parts For Sale
We provide a full range of second-hand Volkswagen T-ROC spares and aftermarket parts. No matter whether you need engine parts, gearboxes, turbos or body parts, our warm and friendly sales team will be thankful to assist you!
Our Stock
Our Volkswagen spares scrap yard team are continually stripping accident damaged T-ROC vehicles for spares. All parts are shelved and ready for purchase. We also source our VW T-ROC replacement parts from quality suppliers ensuring your vehicle is only fitted with the correct aftermarket replacement parts. Buy T-ROC engines, electrical parts, window regulators, indicators, brake calipers, headlights, crankshafts, tie rod ends, doors, bumpers, rims, windscreens, suspension parts, gaskets, camshafts, wiper motors, ignition switches and more!
Latest VW T-ROC Part Requests
| Date | Requirements |
| --- | --- |
| 2022-01-03 16:06:51 +00:00 | Vw t-roc bonnet |
About The T-ROC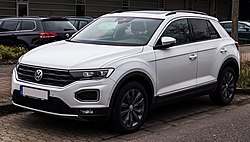 The car is built on the MQB platform, which is used in many VAG cars: Audi Q2, Volkswagen Golf 7 and others.
The base version of the T-Roc with 115-horsepower 1.0 TSI petrol engine has front-wheel drive, other modifications are equipped with an updated 4Motion all-wheel-drive transmission based on Haldex clutch with rotary selector Active Control (Street, Snow, Offroad, Offroad Individual), and adaptive DCC chassis, and a steering rack with a variable pitch of teeth. And here is the setting of the overall driving profile ( power steering, "robot", climate system, suspension, adaptive cruise control ) between the five modes (Comfort, Normal, Sport, Eco, and Individual). The latter switch is standard on all-wheel-drive versions and an option for front-wheel drive.
The crossover is offered in three configurations: T-Roc, T-Roc Style, T-Roc Sport, and the difference between the first and third is more than ten thousand euros. This is not surprising, given how many additional options you can get for a fee: panoramic roof, climate control, blind-spot monitoring system, parking assistance system, adaptive cruise control, heated front and rear seats, electric front seats and trunk, various types of interior trim. In addition, the multimedia system can have a screen from 6.5 to 8 inches (supports Apple CarPlay and Android Auto, access to the Internet ), and the instrument panel can be virtual Active Info Display).
Basic equipment includes a system of preventive braking, and among the options – LED headlights, adaptive shock absorbers, road sign recognition systems, tracking driver fatigue and semi-automatic traffic jams.
The compact crossover has a spacious interior with an optional panoramic roof. The glass roof does not take up free space above the heads of passengers. The T-Roc has the best sound insulation in its class.
In Volkswagen T-Roc has 445 liters of luggage space.
Resources:
We Deliver Across South Africa!
We deliver VW spare parts across South Africa and Africa including Swaziland, Botswana, Lesotho, Angola, Zimbabwe, Swaziland and Namibia. Only the most reliable couriers are used.
Sell Your VW For Parts!
Have an old VW that needs to be scrapped? Scrap your car with us! We buy non-runners or accident damaged VW's and strip them for parts. All vehicle types considered no matter how bad the damage.
You Are In Safe Hands!
We have been in the industry for many years. We only supply quality used parts at affordable prices.
VW's Stripping For Spares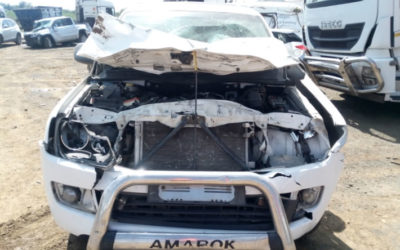 Now stripping a 2011 VW Amarok Contact us for any part enquiries. Complete Engine Lock Set: Key, CAS, Computer Box Radiator Set: Heat Exchanger,Water Pipes, Intercooler Gearbox Radiator AC Condenser, Alternator, Aircon Pump, Starter Motor, Water Pump, Radiator Fan,...
Past Customer Queries
| Date | Customer Name | Model | Engine | VIN Number | Requirements |
| --- | --- | --- | --- | --- | --- |