ABout Us
We represent local South African VW Scrap Yards, selling used and new VW spares. 
FIND YOUR PARTS
Used Spares Vs New Spares
We stock only high-quality Volkswagem spare parts in our warehouses. Even though these parts were previously used, they are able to still operate effectively for many years. They are entirely genuine spare parts that match the model of your VW. The variety is extensive, categorized by year of manufacture and model.
Why Used Parts Is A Smart Choice
Prices for new spare parts for Volkswagen vehicles are constantly growing. Therefore, more and more investments are required to keep the car in good working order. Not to mention the fact that the search for new parts can be ineffective. Then our VW scrap yard service comes to the rescue. After disassembly, spare parts have all the necessary parameters and quality, and at the same time are offered at affordable prices.
Used Quality Auto Parts for Volkswagen
Volkswagen is one of the most popular car brands in South Africa. Therefore, the demand for such spare parts is always at the proper level. These always high-quality German-made cars need periodic service and maintenance to ensure the reliability and safety of the vehicle. To find and buy genuine VW parts from the manufacturer, but used, you need to contact reliable sellers. Our online store offers you the opportunity to purchase the desired part at affordable prices, regardless of the year of manufacture of your car model. After all, auto-dismantled parts can satisfy the needs of almost any driver. We provide:
Affordable prices for spare parts
A wide range of even rare parts
Reliability and performance of spare parts
Fast and convenient delivery
Buy a used part you need for your Volkswagen at fair prices and in a trusted place. We organize delivery throughout South Africa.
We Deliver Across South Africa!
We deliver VW spare parts across South Africa and Africa including Swaziland, Botswana, Lesotho, Angola, Zimbabwe, Swaziland and Namibia. Only the most reliable couriers are used.
Sell Your VW For Parts!
Have an old VW that needs to be scrapped? Scrap your car with us! We buy non-runners or accident damaged VW's and strip them for parts. All vehicle types considered no matter how bad the damage.
You Are In Safe Hands!
We have been in the industry for many years. We only supply quality used parts at affordable prices.
VW's Stripping For Spares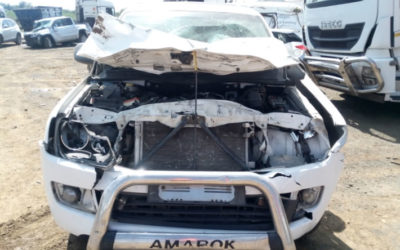 Now stripping a 2011 VW Amarok Contact us for any part enquiries. Complete Engine Lock Set: Key, CAS, Computer Box Radiator Set: Heat Exchanger,Water Pipes, Intercooler Gearbox Radiator AC Condenser, Alternator, Aircon Pump, Starter Motor, Water Pump, Radiator Fan,...