Used VW Caravelle Microbus Spares For Sale
We strip accident damaged VW Caravelle vehicles for spares. We are your one stop VW scrap yard selling used Caravelle parts!
FIND YOUR PARTS
VW Caravelle Microbus Parts For Sale
We present a entire spectrum of second hand VW Microbus spare parts and replacement parts traveling on the SA roads. No matter if you want engine parts, gearboxes, turbos or body parts, our warm and friendly sales team will be thankful to assist you!
Our Stock
Our VW scrap yard team are continually stripping accident damaged Caravelle vehicles for spares. All VW parts are shelved and ready for purchase. We also source our VW Caravelle replacement parts from quality suppliers ensuring your vehicle is only fitted with the correct aftermarket replacement parts. Buy Caravelle camshafts, gaskets, electrical parts, headlights, windscreens, bumpers, window regulators, tie rod ends, doors, wiper motors, engines, suspension parts, rims, crankshafts, brake calipers, indicators, ignition switches, and more!
Latest VW Caravelle Part Requests
Date

Requirements

2022-06-15 10:33:51 +00:00

T4 Caravelle 2002 ACV
Looking for parts
Fuce box cover
Front bumper
Aircon box in engine bay
2 side mirrors
right hand door handle inside

2022-05-31 11:52:19 +00:00

VW Caravelle Kombi 1.9tdi Power steeering pump

2022-05-30 14:54:41 +00:00

I am looking for the two inside side panels for a 2006 Caravelle 3.2

2022-05-17 08:55:04 +00:00

Looking for 2003 T4 Caravelle right front headlight

2022-05-09 15:03:04 +00:00

Campshaft sensor for a Caravelle T5

2022-04-11 19:55:56 +00:00

I am In need of crankshaft for my caravelle or alternatively whole top.Please reply by both prices respectively

2022-04-06 12:17:19 +00:00

5 speed gearbox for 2001 Caravelle 2.6i

please email pics and prices

2022-03-30 13:29:59 +00:00

Need to get a price for caravelle 2,5I gearbox


2022-03-15 18:26:49 +00:00

Good day
Looking for a tcm unit to my auto gearbox for my caravelle .

2022-03-07 13:29:48 +00:00

Looking for a vw caravelle 2.1 airflow sensor with the 4 pins
About The Caravelle
In the first two decades of the 21st century, the German Volkswagen group successively presented several concept vehicles for a minibus or maxi van under different names that deliberately incorporated the concepts and style elements of the first VW buses T1 / T2, which were known as VW Bulli and icons of hippie culture had become known when retroelements were picked up and mostly alluded to the model from the post-war period.
In January 2001 the drivable VW Microbus was presented for the first time at the NAIAS in Detroit. The Microbus was to be positioned as a series model between the Sharan and the T5 as a more emotional MPV and was developed very far, but the planned series production was not realized.
The very similar follow-up study VW Bulli was shown for the first time at the Geneva Motor Show 2011. Series production as the VW New Bulli, similar to the New Beetle, was planned for 2015 alongside the T6 but was also discarded.
After the VW emissions scandal, VW finally presented a further development of the concept as VW Budd-E, which relies exclusively on electric motors, not first at an automobile fair, but at the 2016 Consumer Electronics Show. The name alludes in English buddy 'mate' and with the separated E on the pure electric drive.
Since 2017, VW's underlying platform with the modular e-drive kit (MEB) for purely electrically powered vehicles has been called "ID" and the Bulli legacy Buzz or VW ID based on it. The start of sales is scheduled for 2022 this time. The name from the English verb to buzz 'hum' should allude to the electric drive and bus at the same time.
Resources:
We Deliver Across South Africa!
We deliver VW spare parts across South Africa and Africa including Swaziland, Botswana, Lesotho, Angola, Zimbabwe, Swaziland and Namibia. Only the most reliable couriers are used.
Sell Your VW For Parts!
Have an old VW that needs to be scrapped? Scrap your car with us! We buy non-runners or accident damaged VW's and strip them for parts. All vehicle types considered no matter how bad the damage.
You Are In Safe Hands!
We have been in the industry for many years. We only supply quality used parts at affordable prices.
VW's Stripping For Spares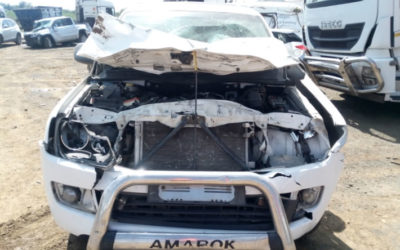 Now stripping a 2011 VW Amarok Contact us for any part enquiries. Complete Engine Lock Set: Key, CAS, Computer Box Radiator Set: Heat Exchanger,Water Pipes, Intercooler Gearbox Radiator AC Condenser, Alternator, Aircon Pump, Starter Motor, Water Pump, Radiator Fan,...
Past Customer Queries
| Date | Customer Name | Model | Engine | VIN Number | Requirements |
| --- | --- | --- | --- | --- | --- |