Used VW Eos Spares For Sale
We strip accident damaged VW Eos vehicles for spares. We are your one stop VW scrap yard selling used Eos parts!
FIND YOUR PARTS
VW Eos Parts For Sale
Our company provide a comprehensive spectrum of second-hand Volkswagen Eos spares and replacement parts driving on the South African roads. No matter whether you require spare engine parts, gearboxes, turbos or body parts, our friendly sales team will be delighted to assist you!
Our Stock
Our Volkswagen scrap yard team are continually stripping accident damaged Eos vehicles for spares. All VW spares are shelved and ready for purchase. We also source our VW Eos replacement parts from quality suppliers ensuring your vehicle is only fitted with the correct aftermarket replacement parts. Buy Eos rims, crankshafts, break calipers, tie rod ends, wiper motors,engines, ignition switches, windscreens, indicators, suspension parts, doors, camshafts, window regulators, bumpers, electrical parts, gaskets, headlights and more!
Latest VW Eos Part Requests
| Date | Requirements |
| --- | --- |
| 2022-03-29 11:38:40 +00:00 | Hi...I am looking for Vw Eos tsi petrol ECU |
| 2021-06-10 20:28:20 +00:00 | I require a starter for my vw eos 2007 2.0 fsi |
About The Eos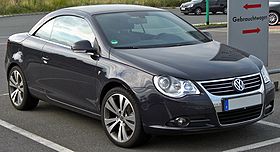 For the first time, the German manufacturer unveiled the Volkswagen Eos as a concept back in 2003 at the autumn Frankfurt International Motor Show. Its serial version debuted in 2005, and already in 2006 production was launched in Portugal.
The novelty is the first model in the history of the manufacturer with a coupe-convertible body. Moreover, it received an innovative roof folding mechanism developed by Webasto. Among other features, it is worth noting a four-seater salon, a powerful engine line, a wide range of equipment and design in a corporate style.
The front of the car is similar to the Passat. It has large headlights with multiple focusing lenses and a small radiator grille. It is covered with thin horizontally oriented ribs and flaunts the manufacturer's logo.
Below, under the bumper reinforcement, there is a compact air intake designed in a similar style. On the sides of it are tiny round fog lights. The rear has two-tone brake lights, an embossed bumper and a chrome double-barreled exhaust system.
Dimensions
Volkswagen Eos is a four-seater coupe-cabriolet C class. Its overall dimensions are: length 4407 mm, width 1791 mm, height 1443 mm, and the wheelbase is 2578 mm. The ground clearance is small – only 130 millimeters. The car is based on the shortened PQ46 Volkswagen Passat B6 platform. It implies a front transverse arrangement of the power unit and a fully independent suspension. There are McPherson struts in the front and a complex multi-link design at the back.
One of the distinguishing features of the Eos is the folding roof design. It consists of five sections and has a special mechanism, thanks to which the top does not fold, but slides into a special compartment. This solution allows the roof to be removed in the garage even at high speeds. By the way, the folding process takes only 25 seconds. As for the trunk itself, depending on the mode, its volume varies from 205 to 380 liters.
Specifications
In the domestic market, the convertible was offered with three different motors, six-speed manual and robotic variable transmissions, and also exclusively front-wheel drive.
The base engine of the Volkswagen Eos is the TSI inline turbocharged petrol four. Thanks to an advanced turbocharger and direct fuel delivery system, it produces 200 horsepower and 280 Nm of torque. Depending on the type of gearbox, acceleration to a hundred will take 7.8-7.9 seconds, and the maximum speed will be at around 229-232 km / h. Fuel consumption will be about 8.2 liters of gasoline per hundred in the combined cycle.
Older models will receive V-shaped petrol. an atmospheric six with a small camber angle of 3.2 liters. She develops 250 horses and 320 Nm of torque. The motor is equipped only with robotic gearboxes, accelerates the convertible to 100 km / h in 7.3 seconds, allows to gain up to 247 km / h and consumes about 9.2 liters of fuel per 100 km in the same driving mode.
Accessories
Volkswagen Eos has a wide range of optional equipment. It can be equipped with four airbags, ABS and stabilization system, active head restraints, cruise control, electrically adjustable and heated seats, xenon headlights, leather interior, alarm with immobilizer, Hi-Fi audio system, steering column adjustable for reach and height, as well as climate control and interior lighting.
Video
Resources:
We Deliver Across South Africa!
We deliver VW spare parts across South Africa and Africa including Swaziland, Botswana, Lesotho, Angola, Zimbabwe, Swaziland and Namibia. Only the most reliable couriers are used.
Sell Your VW For Parts!
Have an old VW that needs to be scrapped? Scrap your car with us! We buy non-runners or accident damaged VW's and strip them for parts. All vehicle types considered no matter how bad the damage.
You Are In Safe Hands!
We have been in the industry for many years. We only supply quality used parts at affordable prices.
VW's Stripping For Spares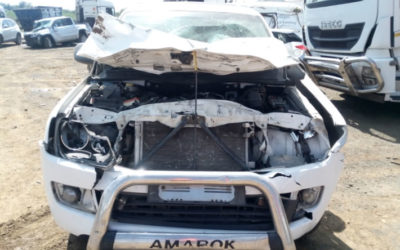 Now stripping a 2011 VW Amarok Contact us for any part enquiries. Complete Engine Lock Set: Key, CAS, Computer Box Radiator Set: Heat Exchanger,Water Pipes, Intercooler Gearbox Radiator AC Condenser, Alternator, Aircon Pump, Starter Motor, Water Pump, Radiator Fan,...
Past Customer Queries
| Date | Customer Name | Model | Engine | VIN Number | Requirements |
| --- | --- | --- | --- | --- | --- |