Used VW CITI Golf Spares For Sale
We strip accident damaged VW CITI Golf vehicles for spares. We are your one-stop VW scrap yard selling used CITI parts!
FIND YOUR PARTS
VW CITI Parts For Sale
Our organization present a entire selection of second hand Volkswagen CITI spares and aftermarket parts traveling on the South African roads. Regardless of whether you want engine parts, gearboxes, turbos or body parts, our helpful sales team will be glad to assist you!
Our Stock
Our Volkswagen scrap yard team are continually stripping accident damaged CITI vehicles for spares. All parts are shelved and ready for purchase. We also source our VW CITI replacement parts from quality suppliers ensuring your vehicle is only fitted with the correct aftermarket replacement parts. Buy CITI break calipers, doors, suspension parts, windscreens, electrical parts, bumpers,engines, ignition switches, indicators, window regulators, camshafts, crankshafts, wiper motors, headlights, rims, gaskets, tie rod ends and more!
Latest VW CITI Part Requests
Date

Requirements

2022-07-02 04:54:57 +00:00

Looking for indicator box for citi golf 1

2022-06-22 17:09:21 +00:00

Hi, do you have the front essentric camber bolts and washer for citi golf.

2022-06-21 12:36:03 +00:00

I am looking for a cubby hole for a Citi Golf damaged in an accident
Many thanks

2022-06-06 15:02:34 +00:00

I have a 1991 Vw Citi golf 1.3 carburetor I am looking for the Intake Manifold for the car, How much does it coast.

2022-05-23 11:50:17 +00:00

looking for full dashboard wiring loom for citi shuttle

2022-05-21 21:24:54 +00:00

I need a handbrake mechanism for CITI golf please .

2022-05-12 14:15:20 +00:00

Looking for the engen cover for citi golf wolf

2022-05-11 05:51:59 +00:00

I am looking for the handbrake

2022-04-24 11:35:04 +00:00

I'm looking for a body control unit for a Citi 1.4 04 model if anyone can assist please.

2022-04-16 08:45:46 +00:00

Hi i a looking for citi golf new spec shell complete with all doors,windows,bonnet,boot,glass,dash. Doesnt need an engine but must not have rust
About The CITI
The VW Golf I has been built in a plant in South Africa since 1978. Production of the Golf II began in South Africa in 1984. After this sold worse than expected due to the higher price, production of the Golf I was resumed as the Citi Golf.
Until 2009, that is 35 years after the presentation of the first VW Golf, the Citi Golf, derived from the Golf I, was manufactured largely unchanged in South Africa; In the end, however, under the sheet metal of the vehicle was Golf III and Polo III technology. The look is a mixture of Golf I, Golf I convertible, and Golf II elements, together with some individual design elements (e.g. bead in the C-pillar ).
Parallel to the Citi Golf there was the VW Fox in South Africa, which looks very similar to the VW Jetta I.
At first, was Citi Golf only with a 4-cylinder – petrol engine with 1.3 liters displacement and 52 kW available (71 PS); There were three different colors to choose from as paintwork. When production was discontinued, the basic engine had an output of 54 kW (73 hp) from a 1.4-liter displacement, the interior was adapted to the zeitgeist and from 2003 had a dashboard from the Škoda Fabia I and a steering wheel from the VW Lupo.
By 2005, nearly 700,000 copies of the Citi Golf had left the plant in South Africa. New registrations in South Africa reached a new record in 2005 and were around 3.5 times as high as those of the Golf V, which was also offered but was much more expensive.
The Citi Golf was produced exclusively as a right-hand drive and only met the EU2 emissions standard. This meant that it could not be registered as a new vehicle in the EU; since January 1, 2005, EU4 has been the minimum standard. In terms of safety, it couldn't keep up with European cars either. The base list price of the Chico 1.4 in South Africa in 2006 was R67,780, the VeloCiTi 1.6i R98,800.
On November 2, 2009, VW South Africa boss David Powels announced the end of production of the Citi Golf.
The history of the Citi Golf Model in South Africa
1978: Start of production of the Golf in South Africa
1984: Production now as Citi Golf
1994: Ritz special model
1995: Chico special model
1996: End of production CTi
2000: Special model Life and .com (production until 2009)
2003: Changed fittings, seats and exterior mirrors
2007: Changed taillights
2009: Production stopped
Resources:
We Deliver Across South Africa!
We deliver VW spare parts across South Africa and Africa including Swaziland, Botswana, Lesotho, Angola, Zimbabwe, Swaziland and Namibia. Only the most reliable couriers are used.
Sell Your VW For Parts!
Have an old VW that needs to be scrapped? Scrap your car with us! We buy non-runners or accident damaged VW's and strip them for parts. All vehicle types considered no matter how bad the damage.
You Are In Safe Hands!
We have been in the industry for many years. We only supply quality used parts at affordable prices.
VW's Stripping For Spares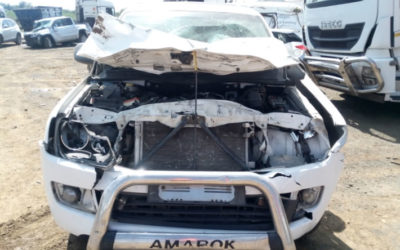 Now stripping a 2011 VW Amarok Contact us for any part enquiries. Complete Engine Lock Set: Key, CAS, Computer Box Radiator Set: Heat Exchanger,Water Pipes, Intercooler Gearbox Radiator AC Condenser, Alternator, Aircon Pump, Starter Motor, Water Pump, Radiator Fan,...
Past Customer Queries
| Date | Customer Name | Model | Engine | VIN Number | Requirements |
| --- | --- | --- | --- | --- | --- |