Used VW Polo Vivo Spares For Sale
We strip accident damaged VW Polo Vivo vehicles for spares. We are your one stop VW scrap yard selling used Polo Vivo parts!
FIND YOUR PARTS
VW Polo Vivo Parts For Sale
Our organization present a full array of second-hand Volkswagen Polo Vivo spares and replacement parts traveling on the SA roads. Regardless of whether you require engine parts, gearboxes, turbos or body parts, our friendly sales team will be thankful to help you!
Our Stock
Our Volkswagen scrap yard team are continually stripping accident damaged Polo Vivo vehicles for spares. All parts are shelved and ready for purchase. We also source our VW Polo Vivo replacement parts from quality suppliers ensuring your vehicle is only fitted with the correct aftermarket replacement parts. Buy Polo Vivo ignition switches, window regulators, break calipers, electrical parts, suspension parts, camshafts, headlights, bumpers, tie rod ends, rims,engines, windscreens, crankshafts, gaskets, indicators, wiper motors, doors and more!
About The Polo Vivo
In 2010, Volkswagen South Africa replaced the legendary Citi Golf with the Polo Vivo, which in turn was based on the fourth-generation Polo.
Since then, 193,343 Polo Vivo units have been sold and for the past seven years, the Polo Vivo has been the top seller on the South African market. With the launch of the sixth-generation Polo starting in 2018, Volkswagen South Africa has decided to continue with the fifth-generation Polo by letting it survive as the new Polo Vivo. However, the new Vivo is not just made and left standing: it takes the fifth-generation Polo further so that the Vivo can parade on its own legs as a renewed model.
The new sixth-generation Polo and the Polo Vivo (The fifth-generation Polo) are the only models in the B-segment of the South African car market, which is manufactured locally and the popularity of these two models is due to affordability, build quality, safety, space, and convenience. It is also one of the cheapest cars to keep on the road over a period of three years.
Unlike the previous Polo Vivo series, the new model will only be available as a hatchback. The new Vivo is in a styling and technical respect actually a further development of the fifth-generation Polo. Especially when one considers the new management tools, new information and entertainment systems, and the addition of a TSI engine to the range.
The outstanding feature of the front end of the new Polo Vivo is the redesigned front bumper and larger lower air outlet. At the rear, there is a wider panel for the license plate and the taillights have been redesigned. The most striking feature regarding the profile of the car is new wheels; 14-inch steel wheels with wheel covers for the Trendline and Comfortline, optional fifteen-inch alloy wheels for both of these specification levels, sixteen-inch alloy wheels for the Highline and seventeen-inch alloy wheels for the GT.
Although the instrument panel is new, it is designed to reflect Volkswagen's design direction. The information and entertainment system is easy to use and ideally placed. The Highline and GT get six speakers instead of four and a touch screen that allows access to the driver's cell phone applications.
The entire range is equipped with a rear seat that folds into one piece and is not divided. With the seat upright, the trunk can provide 280 liters of luggage space and with the seat folded flat, it holds 952 liters.
There are four engines available in the Polo Vivo range. The Trendline is equipped with the entry-level version of the 1.4-liter four-cylinder engine. This engine delivers 55 kW at 4,800 rpm and has a torque of 130 Nm at 3,750 rpm. The average fuel consumption of this model is 5.7 liters per 100 km.
The Comfortline is available in two versions. The 1.4 manual model delivers 63 kW at 5,000 rpm and 132 Nm at 3,750 rpm. The 1.6-liter model's engine delivers 77 kW and 153 Nm at 3,800 rpm. This model is only available with a Tiptronic gearbox. The other model with this engine is the Highline, which has a six-speed manual gearbox as standard equipment.
The big news, however, is the launch of the 1.0 TSI engine in the top model of the Vivo series, the GT. This turbocharged three-cylinder engine delivers 81 kW and 200 Nm at 2,000 rpm. Despite the GT's high performance, its average fuel consumption is only 4.6 liters per 100 km. The Vivo GT only comes with a six-speed manual transmission.
The Trendline has the following features as standard equipment: three-spoke steering wheel, radio with USB SD and Bluetooth functions, cup holders integrated in the center console, hand-adjustable exterior mirrors, electric windows in front, air conditioning, power steering, full-size spare wheel, rear windscreen wiper, heatable rear window, ABS brakes, ISOFIX attachment points and airbags for the driver and front passenger. Optional extras available for this model include speed control, front fog lights and a safety package that includes stability control and a tire-pressure monitor.
The Comfortline models add the following features: front fog lights, exterior mirrors and door handles in the same color as the bodywork, a multifunction display panel, a multifunction steering wheel and a height-adjustable driver's seat. Additional optional extras for the Comfortline include leather upholstery, ' a front armrest between the seats and a drawer under the driver for loose goods, a removable drawbar, and a more sophisticated sound system that gives the driver access to cell phone applications.
The Highline also gets a multifunction steering wheel with aluminum inserts, sixteen-inch alloy wheels, and the safety package that is optional for the other models. In addition, it also has a temporary spare wheel instead of the full-size spare wheel with which the rest of the range is equipped.
The flagship of the range is the GT, which features front sports seats, a pressure wing on the hatch door, lowered suspension, alloy pedals, GT badges on the grille, a sporty chrome-finished exhaust pipe and speed control.
The Polo Vivo will be available in six colors, namely white, red, pearl black, metallic blue, metallic silver and metallic gray.
The Polo Vivo is backed by a three-year or 120,000 km warranty and a six-year anti-corrosion warranty. Various service or maintenance plans are available at extra cost.
Resources:
Latest VW Polo Vivo Part Requests
Date

Requirements

2022-01-17 12:18:36 +00:00

I need a Polo Vivo 2021 Trendline Subframe

2022-01-14 02:36:49 +00:00

Looking for 2010 polo vivo parcel shelf

2022-01-10 18:05:44 +00:00

2016 polo vivo indicator switch

2022-01-03 12:19:38 +00:00

I need a bumper, grille, both headlights and a bonnet for 2015 polo vivo 1.6

2021-12-31 13:13:38 +00:00

Hello
I'm looking for a new preferbal or used electronic switch for my Polo vivo 1.6 hatch back 2011 model. My rear hatch lever seems to be intermittent to open the boot. Do you have stock of just the switch? Original VW part number 170 962 103
It's an electronic switch controlling the boot actuator

2021-12-29 06:36:20 +00:00

Looking for a polo vivo 2021 model front badge as well as a rear-view mirror

2021-12-19 10:26:24 +00:00

looking for a 2011 polo vivo sedan rear left corner light.

2021-12-14 18:04:32 +00:00

Hi. I need a cylinder head for a polo vivo cls engine.

2021-12-11 10:06:15 +00:00

I'm looking for a polo vivo 2018 rear right window, ignition switch and door lock


2021-12-10 09:18:42 +00:00

I am urgently looking for a Transmission Control Unit for a Polo Vivo Auto (2018). Part no 09G 927 158 AE
We Deliver Across South Africa!
We deliver VW spare parts across South Africa and Africa including Swaziland, Botswana, Lesotho, Angola, Zimbabwe, Swaziland and Namibia. Only the most reliable couriers are used.
Sell Your VW For Parts!
Have an old VW that needs to be scrapped? Scrap your car with us! We buy non-runners or accident damaged VW's and strip them for parts. All vehicle types considered no matter how bad the damage.
You Are In Safe Hands!
We have been in the industry for many years. We only supply quality used parts at affordable prices.
VW's Stripping For Spares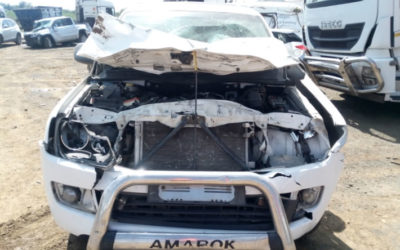 Now stripping a 2011 VW Amarok Contact us for any part enquiries. Complete Engine Lock Set: Key, CAS, Computer Box Radiator Set: Heat Exchanger,Water Pipes, Intercooler Gearbox Radiator AC Condenser, Alternator, Aircon Pump, Starter Motor, Water Pump, Radiator Fan,...
Past Customer Queries
| Date | Customer Name | Model | Engine | VIN Number | Requirements |
| --- | --- | --- | --- | --- | --- |