Used VW Polo Spares For Sale
We strip accident damaged VW Polo vehicles for spares. We are your one stop VW scrap yard selling used Polo parts!
FIND YOUR PARTS
VW Polo Parts For Sale
We provide a entire range of used Volkswagen Polo spares and replacement parts traveling on the South African roads. No matter whether you need engine parts, gearboxes, turbos or body parts, our helpful sales team will be pleased to help you!
Our Stock
Our VW scrap yard team are continually stripping accident damaged Polo vehicles for spares. All parts are shelved and ready for purchase. We also source our VW Polo replacement parts from quality suppliers ensuring your vehicle is only fitted with the correct aftermarket replacement parts. Buy Polo engines, suspension parts, bumpers, doors, rims, electrical parts, windscreens, wiper motors, window regulators, indicators, ignition switches, camshafts, tie rod ends, break calipers, crankshafts, gaskets, headlights and more!
Latest VW Polo Part Requests
Date

Requirements

2022-07-04 06:05:07 +00:00

looking for reasonable prices to repair a front smash polo vivo.


2022-07-02 15:27:33 +00:00

I require a polo 1.4 gearbox 2012

2022-07-02 08:59:10 +00:00

hi I have a polo classic 2001
looking for prices for bonnet and windscreen

2022-06-30 19:00:44 +00:00

Front bumper and grill price request for polo vivi highline 2018 model, white

2022-06-30 07:49:14 +00:00

I am looking for a complete CLS engine 1.6 for polo 6.

2022-06-29 06:26:49 +00:00

Good day,
I am looking for a complete vw polo hatchback FUEL CAP. Please let me know if you have stork and how much does it cost.

2022-06-28 22:40:15 +00:00

Looking for VW Polo 6R rear axle

2022-06-28 22:40:14 +00:00

Looking for VW Polo 6R rear axle

2022-06-28 13:41:10 +00:00

Hi.
I am looking for a TIPTRONIC gearbox for a 2012 Polo Vivo Hatchback.

2022-06-27 13:35:04 +00:00

I am looking for a complete polo 6 2012 engine.
About The Polo
The new Volkswagen Polo of the sixth generation of the 2020 model is a liftback, it is a hatchback, the silhouette of which resembles a sedan.
Accessories
At the front, the Polo stands out with its LED optics, LED daytime running lights, and an open grille. Nice stampings appeared at the bottom of the liftback doors, the car paint contains only 8 colors, which can go with a metallic tint. The rear fog lights are unusually installed under the brake lights; the rear bumper is quite massive. In the Volkswagen Polo, the instrument panel is installed analog or digital, the steering wheel in the lower part is slightly pressed under a sporty look, a tall passenger in the second row will not be entirely comfortable.
Engine
Only petrol 4-cylinder in-line engines are installed on the Volkswagen Polo, transmitting power to the front axle. The first and second motors have a volume of 1.6 liters, a torque of 155 N * m and are aggregated with a five-speed manual gearbox.
The first has a power of 90 hp. and acceleration to 100 km / h in 11.4 seconds, the second – 110 horses and increases the liftback speed to hundreds in 10.7 seconds. The third engine, having the parameters of the second, is equipped with an automatic gearbox and breaks the car up to a hundred in 11.8 seconds.
Turbocharged fourth unit with 125 hp. and a torque of 200 N * m is complemented by a robotic gearbox with seven steps and has an acceleration to 100 km / h in 9.3 seconds. In front of the Polo there is an independent MacPherson suspension with wishbones and a stabilizer, at the back there is a torsion beam.
The Volkswagen Polo is offered in four trim levels: Origin, Respect, Status and Exclusive. Base Origin includes ESP, ABS, tire pressure monitoring, LED headlights and lights, air conditioning. stamped steel rims 15 ", 2 front airbags. The Respect version additionally has heated front seats, washer nozzles and side mirrors. The Status equipment also has a leather-trimmed steering wheel, heated steering wheel, cruise control, climate control, a rear-view camera, and alloy wheels.
The top-end Exlcusive additionally includes rear parking sensors, rain and light sensors, a digital instrument cluster, and an advanced Composition media system. In addition, you can optionally access the salon without key, R16 rims.
Resources:
We Deliver Across South Africa!
We deliver VW spare parts across South Africa and Africa including Swaziland, Botswana, Lesotho, Angola, Zimbabwe, Swaziland and Namibia. Only the most reliable couriers are used.
Sell Your VW For Parts!
Have an old VW that needs to be scrapped? Scrap your car with us! We buy non-runners or accident damaged VW's and strip them for parts. All vehicle types considered no matter how bad the damage.
You Are In Safe Hands!
We have been in the industry for many years. We only supply quality used parts at affordable prices.
VW's Stripping For Spares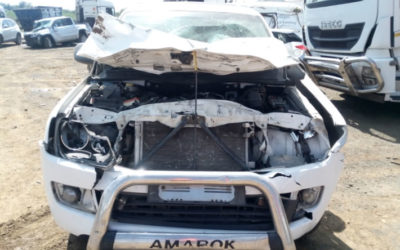 Now stripping a 2011 VW Amarok Contact us for any part enquiries. Complete Engine Lock Set: Key, CAS, Computer Box Radiator Set: Heat Exchanger,Water Pipes, Intercooler Gearbox Radiator AC Condenser, Alternator, Aircon Pump, Starter Motor, Water Pump, Radiator Fan,...
Past Customer Queries
| Date | Customer Name | Model | Engine | VIN Number | Requirements |
| --- | --- | --- | --- | --- | --- |