Used VW T-Cross Spares For Sale
We strip accident damaged VW T-Cross vehicles for spares. We are your one stop VW scrap yard selling used T-Cross parts!
FIND YOUR PARTS
VW T-Cross Parts For Sale
We offer you a comprehensive spectrum of second-hand Volkswagen T-Cross spare parts and aftermarket parts. No matter if you require complete engines, gearboxes, turbos or body parts, our friendly sales team will be thrilled to help you!
Our Stock
Our Volkswagen spares scrap yard team are continually stripping accident damaged T-Cross vehicles for spares. All parts are shelved and ready for purchase. Buy T-Cross ignition switches, suspension parts, headlights, tie rod ends, engines, rims, windscreens, bumpers, crankshafts, gaskets, wiper motors, doors, electrical parts, brake calipers, indicators, camshafts, window regulators and more!
Latest VW T-Cross Part Requests
About The T-Cross
The Volkswagen T-cross is a fresh breeze in the small SUV class. After the test, I left a feeling of a rosy future. In the Sport Utility Vehicles segment, Volkswagen has never been a leader at first, but almost always won in the end. Despite their late entry into the market, VW models quickly climbed the top-seller list. There is no need to guess on the coffee grounds in order to predict the Volkswagen T-Cross exactly the same pink future. This is despite the fact that you need to have at least  R400,000 in your wallet before you will be given a Mini-SUV to be taken away from the dealer's site. For the money, you get a decent base package with a 95hp three-cylinder petrol engine.
But not in the engine part, at least for the time being. The 95 hp diesel is the most expensive, though not the most powerful engine. It is surpassed by the 115 hp gasoline engine, but only if you count in horses. In our test, it seemed to us that diesel is a great choice. It, although not a champion in temperament, reveals its capabilities in a way that is very suitable for the character of the car.
The maximum torque of 250 Nm is available from 1500 rpm. It is convenient to use this potential to switch to sixth gear as quickly as possible in a clearly working manual gearbox. There is no point in cranking each stage up to maximum power (3.250 rpm) However, if you try, you can get to 100 km / h in 11.9 s in this way.
The Volkswagen T-Cross is more or less indifferent whether to drive in the style of a pensioner or an athlete. VW engineers tuned the chassis for both of these options. It's tough enough to wrap around corners without noticeable rolls and yet comfortable enough to filter out bumps. These are the best prerequisites for practicality, to which the excellent capacity is added.
The market segment that the small VW belongs to, although called Mini-SUV, the T-Cross is by no means a mini. With its length-width 4.11 x 1.76 m, it falls on the level of the Polo. With which he shares most of the technology. However, the space-saving of the small Sport Utility Vehicles is much better. Headroom and legroom in the second row allow three adults to travel there. And Polo hits the trunk of the T-Cross on the spot. That's 455 versus 251 liters. And here the father of the family finds it difficult to come up with arguments in favor of purchasing a larger car.
Thanks to the split rear sofa, the boot volume can be increased in steps up to 1280 liters. True, this is already due to the freedom for the legs. For 455 liters, for example, you need to move the rear seat 14 cm forward, otherwise, you won't get more than 385 liters.
The practicality is reflected in the pragmatic look. Volkswagen has stayed true to its cool design. This also applies to the unadulterated bodywork and the discreet interior. Black and gray shades are only occasionally interrupted by aluminum inserts. But while most surfaces are made of hard plastic, the overall interior looks quite opulent. This is underlined by the impeccable quality of the finish.
The concept sounds like a "limitation to significant", including in terms of controls. There are only a small number of switches and buttons. But exactly for those functions that you do not want to look for in the wilds of the touch-screen menu. For example, climate control or radio. Something is conveniently located on the steering wheel. In general, the car has something to switch. Because the T-Cross in terms of safety systems and assistants is at least a class above its segment.
Parking assist, lane-keeping, electrically controlled and heated mirrors, recognition of pedestrians and cyclists, tempomat with distance keeping, emergency braking assistant, a start-stop system with brake energy recovery, ESP with trailer stabilization, automatic valet ( +150 euros), a rear-view camera (+280 euros) and climate control can be obtained at the base or for a surcharge.
In terms of appetite, the T-Cross is quite modest. Although in the test we did not always drive economically, the diesel engine kept within 5.1 l / 100 km of run.
Specifications at the end of the material.
The smallest of the Volkswagens that are sold on the South African market is the Tiguan. You can see the paired test with his participation below.
VW T-Cross Spec
COMMON DATA
 
Dimensions, mm:
length / width / height
4110/1760/1580
Trunk volume, l
385/1280
Acceleration time 0 – 100 km / h, s
11.9
Maximum speed, km / h
180
Fuel
DT
Fuel consumption: combined cycle, l / 100 km
4,3
CO2 emissions, g / km
110
ENGINE
 
Configuration / number of valves
P4 / 16
Working volume, cubic meters cm
1598
Power, kW / hp
70/95 at 3250 rpm.
Torque, Nm
250 at 1500 rpm.
TRANSMISSION
 
A type
front wheel drive
Transmission
M6
Resources:
We Deliver Across South Africa!
We deliver VW spare parts across South Africa and Africa including Swaziland, Botswana, Lesotho, Angola, Zimbabwe, Swaziland and Namibia. Only the most reliable couriers are used.
Sell Your VW For Parts!
Have an old VW that needs to be scrapped? Scrap your car with us! We buy non-runners or accident damaged VW's and strip them for parts. All vehicle types considered no matter how bad the damage.
You Are In Safe Hands!
We have been in the industry for many years. We only supply quality used parts at affordable prices.
VW's Stripping For Spares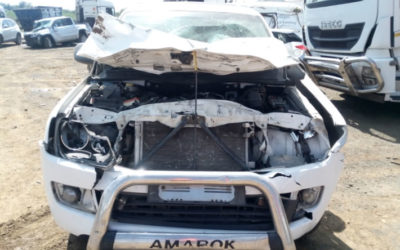 Now stripping a 2011 VW Amarok Contact us for any part enquiries. Complete Engine Lock Set: Key, CAS, Computer Box Radiator Set: Heat Exchanger,Water Pipes, Intercooler Gearbox Radiator AC Condenser, Alternator, Aircon Pump, Starter Motor, Water Pump, Radiator Fan,...
Past Customer Queries
| Date | Customer Name | Model | Engine | VIN Number | Requirements |
| --- | --- | --- | --- | --- | --- |