Used VW Sharan Spares For Sale
We strip accident damaged VW Sharan vehicles for spares. We are your one stop VW scrap yard selling used Sharan parts!
FIND YOUR PARTS
VW Sharan Parts For Sale
Our organization supply a comprehensive spectrum of second-hand Volkswagen Sharan spares and replacement parts driving on the SA roads. Regardless of whether you need engine parts, gearboxes, turbos or body parts, our warm and friendly sales team will be happy to assist you!
Our Stock
Our Volkswagen scrap yard team are continually stripping accident damaged Sharan vehicles for spares. All parts are shelved and ready for purchase. We also source our VW Sharan replacement parts from quality suppliers ensuring your vehicle is only fitted with the correct aftermarket replacement parts. Buy Sharan ignition switches, window regulators, break calipers, electrical parts, suspension parts, camshafts, headlights, bumpers, tie rod ends, rims,engines, windscreens, crankshafts, gaskets, indicators, wiper motors, doors and more!
Latest VW Sharan Part Requests
Date

Requirements

2022-04-25 09:48:44 +00:00

Looking for a clutch kit please for a Volkswagen Sharan 1.9 turbo diesel.

2022-04-09 06:03:53 +00:00

I'm looking for a vw sharan automatic gearbox reverse multi function switch.
It's a 7 pin switch.

2022-04-03 12:39:20 +00:00

Good afternoon! needed gearbox (dq250 E02) mounting for vw sharan 2013, engine 2.0T.
Do you have something like this?

2022-03-23 09:17:21 +00:00

Looking for Sharan 1.8T right side mirror (drivers side) (white)

2022-03-10 10:16:37 +00:00

Am looking for left front speed sensor Vw sharan 2.8 vr6

2022-02-21 10:28:33 +00:00

looking for clutchkit for Vw Sharan 2.8

2022-02-21 10:28:30 +00:00

looking for clutchkit for Vw Sharan 2.8

2022-01-28 19:04:43 +00:00

VW Sharan 2005 1.8T looking a the left side tail light and right side grill.

2022-01-28 10:01:51 +00:00

Good day. I am looking for an exhaust manifold for my VW Sharan 1.8T.
I am also looking for the indicators that comes on the driver side mirror, or a complete driver side mirror with a working indicator. Could you please email me a quotation, because i cant always answer my phone at work. Thanking you in advance.

2022-01-03 10:33:58 +00:00

Hi i need a sparewheel mechanism for a 2006 VW SHARAN 1.8 T as well as a manual gearbox 6 speed
About The Sharan
The new generation Volkswagen Sharan was presented to an international audience at the International Spring Geneva Motor Show in March 2010. The novelty is already the second generation in a row and is qualitatively different from its predecessor. He received a completely new line of power units, a different platform, a wide range of additional equipment, a practical interior and design in a new corporate style. The car has very restrained and austere features. I would like to note the new headlights. They received round focusing lens units with an edging of LED daytime running lights and small sections of direction indicators. The radiator grille visually adjoins the head optics and consists of two thin chrome trims, on top of which the manufacturer's logo is located.
DIMENSIONS
Volkswagen Sharan is a compact van with the ability to install a third row of seats. Its overall dimensions are: length 4854 mm, width 1905 mm, height 1720 mm, and the wheelbase is 2918 mm. The ground clearance is typical for most passenger cars and is 163 millimeters. The model is built on the new PQ46 platform. It implies a transverse arrangement of the power unit and the presence of a monocoque body with an increased, compared to its predecessor, content of high-strength steel grades. The suspension has a fairly progressive structure and a completely independent architecture. The front axle houses the classic MacPherson struts, and the rear is a complex multi-link system.
The Sharan's luggage compartment is quite spacious. Even in the seven-seat layout, there is about 256 liters of free space in the back. If the driver does not intend to use the gallery, it can be folded down and up to 809 liters. For the transportation of bulky goods, you can also donate the middle row. In this position, up to 2430 liters are released.
SPECIFICATIONS
Compact MPV has a wide range of power units, equipped with mechanical, automatic and robotic transmissions. The default drive is front, in some versions, the 4Motion system is available, which transmits torque to the rear wheels through a multi-plate clutch.
The petrol range is represented by in-line turbocharged fours of 1.4 and 2.0 liters. They give out 150-200 horsepower, accelerate the car to a hundred in 8.3-10.7 seconds and allow a maximum gain of up to 197-221 kilometers per hour. Fuel consumption will be approximately 7.2-8.4 liters of gasoline per hundred kilometers in the combined cycle.
Diesel versions will receive exclusively in-line two-liter turbo four. Depending on the version, they produce from 115 to 170 horsepower. Acceleration to 100 km / h will take from 9.5 to 12.6 seconds, and the high-speed ceiling will be located at around 184-210 km / h. Fuel consumption is quite democratic – 5.5-6.2 liters of diesel fuel for every hundred in the combined cycle.
EQUIPMENT
Volkswagen Sharan is primarily aimed at family buyers, which means it has a wide list of safety systems. Already in the basic configuration, the car will receive seven airbags, ABS, stabilization system, as well as MSR, ASR and ADS. Other options include the climate system, active cruise control, light-alloy wheels, parking aid, heated seats, and an advanced multimedia system with premium acoustics, navigation and a rear-view camera.
VIDEO
Resources:
We Deliver Across South Africa!
We deliver VW spare parts across South Africa and Africa including Swaziland, Botswana, Lesotho, Angola, Zimbabwe, Swaziland and Namibia. Only the most reliable couriers are used.
Sell Your VW For Parts!
Have an old VW that needs to be scrapped? Scrap your car with us! We buy non-runners or accident damaged VW's and strip them for parts. All vehicle types considered no matter how bad the damage.
You Are In Safe Hands!
We have been in the industry for many years. We only supply quality used parts at affordable prices.
VW's Stripping For Spares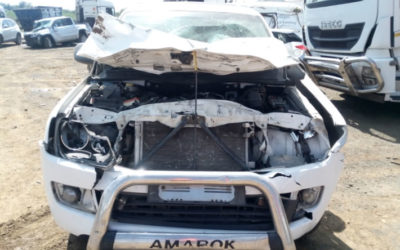 Now stripping a 2011 VW Amarok Contact us for any part enquiries. Complete Engine Lock Set: Key, CAS, Computer Box Radiator Set: Heat Exchanger,Water Pipes, Intercooler Gearbox Radiator AC Condenser, Alternator, Aircon Pump, Starter Motor, Water Pump, Radiator Fan,...
Past Customer Queries
| Date | Customer Name | Model | Engine | VIN Number | Requirements |
| --- | --- | --- | --- | --- | --- |