Used VW CC Spares For Sale
We strip accident damaged VW CC vehicles for spares. We are your one stop VW scrap yard selling used CC parts!
FIND YOUR PARTS
VW CC Parts For Sale
Our organization present a comprehensive array of used VW spares and aftermarket parts traveling on the SA roads. Whether or not you require CC engine parts, gearboxes, turbos or body parts, our helpful sales team will be delighted to assist you!
Our Stock
Our Volkswagen scrap yard team are continually stripping accident damaged CC vehicles for spares. All parts are shelved and ready for purchase. We also source our VW CC replacement parts from quality suppliers ensuring your vehicle is only fitted with the correct aftermarket replacement parts. Buy CC windscreens, tie rod ends, ignition switches, camshafts, electrical parts, engines, headlights, wiper motors, rims, indicators, crankshafts, brake calipers, doors, suspension parts, gaskets, window regulators, bumpers and more!
Latest VW CC Part Requests
Date

Requirements

2022-06-25 22:14:21 +00:00

Looking for front VW cc rline bumper

2022-06-14 00:11:11 +00:00

Looking for VW cc Rline front bumper complete

2022-05-29 13:11:43 +00:00

I need a starter for a vw cc bluemotion 2016

2022-03-29 09:04:53 +00:00

I am looking for a a high pressure fuel pump for a golf TSI GT 2007

2022-02-24 16:37:04 +00:00

Looking for a front grill for 2012 vw cc and the badge

2022-01-23 09:21:05 +00:00

Looking for a 2010 vw cc 3.6 v6 engine or conrod set , thanks

2021-12-31 05:53:10 +00:00

My cc is not reversing
We suspect valve body
How much is a second hand and how much is newish can collect it in Zeerust if you dont deliver to Botswana

2021-11-10 11:10:44 +00:00

Looking for a bootlit and rear bumper on 2010 vw cc 2.0l tdi

2021-10-27 11:18:21 +00:00

2015 vw cc frontgrille


2021-10-14 05:12:51 +00:00

Would like to know if you have cardans for vw passat cc 2010
About The CC
The VW CC (until the beginning of 2012 VW Passat CC ) is a Volkswagen brand vehicle sold as a four-door coupé. The first generation was based on the Passat B6 and was manufactured at the VW plant in Emden. The additional designation CC stands for Comfort Coupé. In some countries (e.g. USA, South Africa ), the model was only marketed as a Volkswagen CC from the start. This name has also been used in Germany since the facelift in February 2012. In China, the car is called Magotan and in Russia, it was always called Passat CC before and after the facelift.
The car was presented to the public at the Detroit Motor Show in 2008 and launched on the European market in May of the same year, and in the US six months later. The Passat CC was positioned between the Passat and the VW Phaeton.
In 2018, the second generation of the CC was presented for the Chinese market at Auto China, which is known as the Arteon in Germany.
Resources:
We Deliver Across South Africa!
We deliver VW spare parts across South Africa and Africa including Swaziland, Botswana, Lesotho, Angola, Zimbabwe, Swaziland and Namibia. Only the most reliable couriers are used.
Sell Your VW For Parts!
Have an old VW that needs to be scrapped? Scrap your car with us! We buy non-runners or accident damaged VW's and strip them for parts. All vehicle types considered no matter how bad the damage.
You Are In Safe Hands!
We have been in the industry for many years. We only supply quality used parts at affordable prices.
VW's Stripping For Spares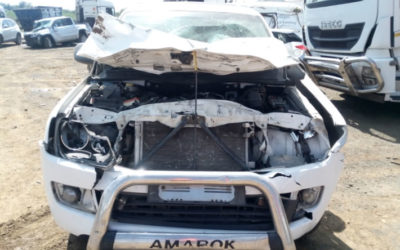 Now stripping a 2011 VW Amarok Contact us for any part enquiries. Complete Engine Lock Set: Key, CAS, Computer Box Radiator Set: Heat Exchanger,Water Pipes, Intercooler Gearbox Radiator AC Condenser, Alternator, Aircon Pump, Starter Motor, Water Pump, Radiator Fan,...
Past Customer Queries
| Date | Customer Name | Model | Engine | VIN Number | Requirements |
| --- | --- | --- | --- | --- | --- |