Used VW Tiguan Spares For Sale
We strip accident damaged VW Tiguan vehicles for spares. We are your one stop VW scrap yard selling used Tiguan parts!
FIND YOUR PARTS
VW Tiguan Parts For Sale
Our Volkswagen spares scrap yard team are continually stripping accident damaged Tiguan vehicles for spares. All parts are shelved and ready for purchase.
We also source our VW Tiguan replacement parts from quality suppliers ensuring your vehicle is only fitted with the correct aftermarket replacement parts.
Buy Tiguan electrical parts, crankshafts, windscreens, headlights, break calipers, rims, camshafts, window regulators, tie rod ends, gaskets, indicators, suspension parts,engines, wiper motors, ignition switches, bumpers, doors and more!
Latest VW Tiguan Part Requests
Date

Requirements

2021-12-28 22:01:02 +00:00

Hi could u please assist with a rear windscreen for a VW tiguan R-line 2019 model vin:WVGZZZ5NZKW867204

2021-12-21 20:36:06 +00:00

1 Pair Tiguan Right R line Fender emblem Car Styling Chromed Side Wing Badge Emblem Fender Rline Car Sticker VW Tiguan 2019

2021-11-30 11:44:12 +00:00

I am looking for a belly pan for a VW Tiguan 2012, do you maybe have and what is the price?

2021-11-25 18:16:50 +00:00

Looking for VW Tiguan 2011 left side mirror. Either just a cover or the full housing


2021-11-22 04:24:29 +00:00

I'm looking for a Tiguan 2009 diesel 2 litre Bonnet and price please. I thank you

2021-11-09 07:46:42 +00:00

Hi
i'm looking for a left side mirror glass for a vw Tiguan R-line

2021-11-02 16:17:15 +00:00

Good afternoon I need a price and availability of a 2014 tiguan tail door

2021-10-24 07:43:49 +00:00

Looking for intake manifold for tiguan 1.4 tsi BWK engine

2021-10-12 07:41:10 +00:00

Good day, I would just like to know whether you buy in parts, I have a VW Tiguan Cluster that was incorrectly purchased from Philwest and never used and I would like to sell it.

2021-10-11 12:10:59 +00:00

Good day - I am looking for a Interior Fan for a 2016 Tiguan 1.4
Regards
Danie
About The Tiguan
The first photos of the Volkswagen Tiguan were shown to the public in June 2007. And the manufacturer showed the car itself at the Frankfurt Motor Show in September of the same year. The platform for creating auto designers borrowed from VW Golf. The Tiguan comes in three trim levels: Trend & Fun, Sport & Style and Truck & Field. The first configuration is designed for driving in a big city, the second is focused on sporty driving, and the third is positioned as an SUV. The car is the first SUV to be equipped exclusively with turbocharged power units. For the Russian market, the car is equipped with one of two new TSI engines with 150 and 170 horsepower. Volkswagen can be equipped with a 6-speed manual or automatic gearbox. The Tiguan has an average fuel consumption of 8.4-9.9 liters per 100 kilometers. For other countries, the car can be equipped with a 2-liter turbo engine with a capacity of 200 horsepower. The car is equipped with an extensive list of electronic systems: ABS, ParkAssist, Infotainment, stability control system, etc.
The compact crossover Volkswagen Tiguan 2011 model year is a restyled version of the first generation of cars that entered the market in 2007. In addition to cosmetic changes designed to unify the appearance of the crossover with other representatives of the Volkswagen family, the 2011 Tiguan received 3 completely new power units, and now European motorists can choose one of 7 engines. Domestic buyers have only five available: together with two petrol engines familiar from the last generation of cars, with a capacity of 150 and 170 hp, as well as a 140-horsepower turbodiesel, crossovers with 1.4 and 2-liter TSIs with a capacity of 122 liters are supplied to the SA market. With 200 hp. Engines Volkswagen Tiguan 2011 are aggregated with a 6-speed Tiptronic, and only the weakest is equipped with a 6-speed manual transmission. Also, the proprietary 4Motion all-wheel drive is not available for it. Another intermediate Track & Style has been added to the three trim levels for the city, off-road and sports versions. In addition, for those who choose the Track & Field trim, the XDS electronic center differential lock is optionally available. Also in the list of options is now the Dynamic Light Assist high-beam assistant and the lane tracking system, which were previously only installed on the VW Touareg.
SPECIFICATIONS VOLKSWAGEN TIGUAN GENERATION I REST.
Engine

Name

Fuel

Drive unit

Consumption

Up to a hundred

1.4 TSI BlueMotion MT




(122 HP)

AVENU

AI-95

Front

5.5 / 8.3

10.9 s

1.4 TSI BlueMotion MT




(122 HP)

CLU

AI-95

Front

5.5 / 8.3

10.9 s

1.4 TSI BlueMotion MT




(122 HP)

Trend and fun

AI-95

Front

5.5 / 8.3

10.9 s

1.4 TSI 4Motion MT




(150 HP)

Trend and fun

AI-95

Full

6.7 / 10.1

9.6 s

2.0 TSI 4Motion AT




(170 HP)

AVENU

AI-95

Full

6.9 / 11.4

9.9 s

2.0 TSI 4Motion AT




(170 HP)

CLU

AI-95

Full

6.9 / 11.4

9.9 s

2.0 TSI 4Motion AT




(170 HP)

Sport and Style

AI-95

Full

7.7 / 13.5

9.9 s

2.0 TSI 4Motion AT




(170 HP)

Track and Field

AI-95

Full

7.7 / 13.5

9.9 s

2.0 TSI 4Motion AT




(170 HP)

Trend and fun

AI-95

Full

6.9 / 11.4

9.9 s

2.0 TSI 4Motion AT




(200 HP)

Sport and Style

AI-95

Full

7.7 / 13.5

8.5 s
Resources:
We Deliver Across South Africa!
We deliver VW spare parts across South Africa and Africa including Swaziland, Botswana, Lesotho, Angola, Zimbabwe, Swaziland and Namibia. Only the most reliable couriers are used.
Sell Your VW For Parts!
Have an old VW that needs to be scrapped? Scrap your car with us! We buy non-runners or accident damaged VW's and strip them for parts. All vehicle types considered no matter how bad the damage.
You Are In Safe Hands!
We have been in the industry for many years. We only supply quality used parts at affordable prices.
VW's Stripping For Spares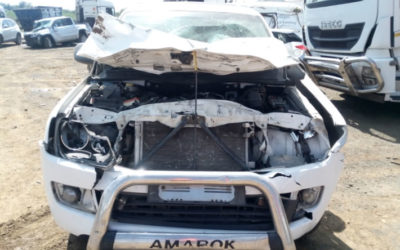 Now stripping a 2011 VW Amarok Contact us for any part enquiries. Complete Engine Lock Set: Key, CAS, Computer Box Radiator Set: Heat Exchanger,Water Pipes, Intercooler Gearbox Radiator AC Condenser, Alternator, Aircon Pump, Starter Motor, Water Pump, Radiator Fan,...
Past Customer Queries
| Date | Customer Name | Model | Engine | VIN Number | Requirements |
| --- | --- | --- | --- | --- | --- |