Used VW Touareg Spares For Sale
We strip accident damaged VW Touareg vehicles for spares. We are your one stop VW scrap yard selling used Touareg parts!
FIND YOUR PARTS
VW Touareg Parts For Sale
Our Volkswagen spares scrap yard team are continually stripping accident damaged Touareg vehicles for spares. All parts are shelved and ready for purchase.
We also source our VW Touareg replacement parts from quality suppliers ensuring your vehicle is only fitted with the correct aftermarket replacement parts.
Buy Touareg crankshafts, windscreens, gaskets, rims, suspension parts, tie rod ends, headlights, camshafts, ignition switches, brake calipers, window regulators, electrical parts, doors, indicators, wiper motors, engines, bumpers and more!
Latest VW Touareg Part Requests
Date

Requirements

2022-01-17 17:28:05 +00:00

I need a fuel pump for my 2004 VW Touareg

2022-01-17 17:28:03 +00:00

I need a fuel pump for my 2004 VW Touareg

2022-01-15 10:51:43 +00:00

Hi There, i'm looking for a cargo cover for a 2012 Touareg

2022-01-08 17:35:43 +00:00

Good day i am looking for both side mirrors for my 2004 Touareg 4.2 v8 . Colors not important as it will be sprayed


2022-01-05 09:43:22 +00:00

Good day.
Im looking for a Touareg bumber recovery point plug in white.

Thank you

2021-12-31 09:50:06 +00:00

Good day. I am looking for a gearbox for 2005 VW Touareg automatic

2021-12-14 03:45:49 +00:00

Knock sensor required, 2 of them for vw touareg 4.2 v8

2021-12-02 08:48:35 +00:00

I am looking for a 2008 VW Touareg load cover(boot cover).Please advise price and availability

2021-11-23 10:57:08 +00:00

Hi I'm looking for a power steering pump for a 2010 to 2015 Audi Q7 or VW Touareg 4.2 TDI V8. Direct bolt-on to the engine not belt driven.

2021-11-03 17:29:19 +00:00

Looking for a Touareg 2005 dash unit - all the kbobs are faded. Want a better looking dash face.
About The Touareg
The Volkswagen Touareg was first shown at the Paris Motor Show in September 2002. It became the second SUV in the history of the manufacturer after the military Volkswagen Typ 82, produced from 1939 to 1945. In 2006, an updated version of the car was presented to the public. The designers redesigned the car and equipped the Touareg with new electronic systems: improved ABS, cruise control and an alarm for detecting passing vehicles in the blind zone. 
The high off-road qualities of the car are provided by an electronic all-wheel-drive system that automatically distributes the engine energy to the axles and individual wheels in case of slippage. 
In February 2010, another car update was presented in Munich. The car has become longer and wider, but lower. The latest Volkswagen Touareg model can be equipped with one of four power units: a 3-liter turbodiesel engine, a 3.6-liter gasoline engine, a 4.2-liter turbodiesel, or a hybrid – a compressor 3-liter gasoline version paired with an electric motor. 
The Touareg is also available in a rally version. This SUV model regularly participates in the Dakar Rally.
Unlike other VW 2010-2011 models, the changes of which were mainly cosmetic, the 2010 Volkswagen Touareg is a full-fledged second generation of the crossover, which replaced the 2002 model. Compared to it, the car has grown in size, while its weight, on the contrary, has decreased by 208 kg. This was achieved thanks to the use of aluminum parts in the suspension structure. 
The Volkswagen Touareg 2010 received a new range of engines: it is supplied to South Africa with 2 gasoline units with a capacity of 249 and 360 hp, and 2 turbodiesels, which develop 204 and 340 hp. In addition to these, only one gearbox is offered, the 8-speed Tiptronic, borrowed from the Audi A8. Already in the base, the Volkswagen Touareg 2010 is equipped with a proprietary 4Motion all-wheel-drive system with a Torsen center differential. 
But for those expecting the off-road capability of a first-generation car from the 2010 Volkswagen Touareg, the manufacturer offers the Terrain Tech package with downshifting, center and rear differential locks. 
Also for the first time on the Volkswagen Touareg 2010 a multimedia system with an 8-inch screen and GPS navigation, a Dynamic Light Assist light control system is installed, and the volume of its luggage compartment with the rear seats folded has increased by 72 liters.
Resources:
We Deliver Across South Africa!
We deliver VW spare parts across South Africa and Africa including Swaziland, Botswana, Lesotho, Angola, Zimbabwe, Swaziland and Namibia. Only the most reliable couriers are used.
Sell Your VW For Parts!
Have an old VW that needs to be scrapped? Scrap your car with us! We buy non-runners or accident damaged VW's and strip them for parts. All vehicle types considered no matter how bad the damage.
You Are In Safe Hands!
We have been in the industry for many years. We only supply quality used parts at affordable prices.
VW's Stripping For Spares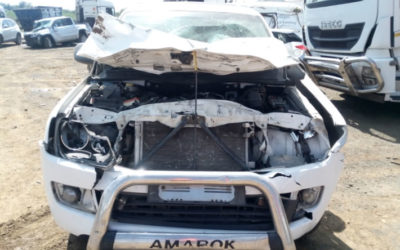 Now stripping a 2011 VW Amarok Contact us for any part enquiries. Complete Engine Lock Set: Key, CAS, Computer Box Radiator Set: Heat Exchanger,Water Pipes, Intercooler Gearbox Radiator AC Condenser, Alternator, Aircon Pump, Starter Motor, Water Pump, Radiator Fan,...
Past Customer Queries
| Date | Customer Name | Model | Engine | VIN Number | Requirements |
| --- | --- | --- | --- | --- | --- |